2022 Kia Sorento Hybrid Gets 32 Miles of Electric Range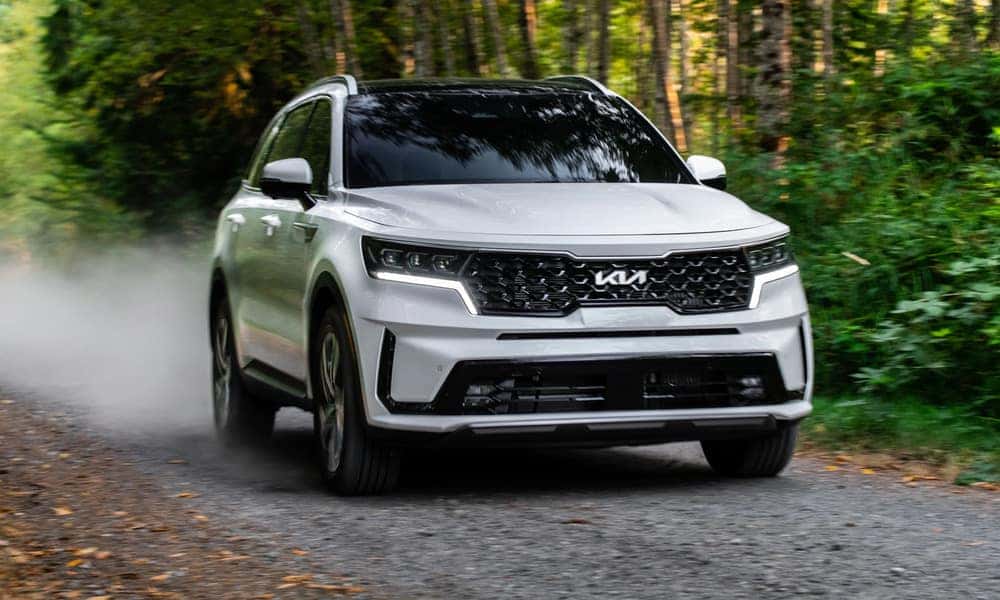 Kia is investing in hybrid technology for various reasons, including the benefits vehicle hybridization provides, such as increased fuel efficiency, reduced range anxiety for the driver, and the ability to utilize electric power from a secondary energy source when gasoline runs out. These are some of the perks that make hybrid vehicles an attractive option among consumers who tend to drive more than the average person. For example, a hybrid car fares way better on long-distance road trips than non-hybrid vehicles, and Kia knows this very well. That is why Kia is committed to selling the all-new 2022 Sorento Hybrid in the United States for family-oriented consumers that need extra range when driving.      
2022 Kia Sorento Hybrid
The new Kia Sorento Hybrid features a powerful Turbocharged 1.6 L Hybrid Powertrain that produces 227hp and 258 lb-ft of torque. Its fuel economy is equally impressive, with an EPA-estimated total driving range of 655 miles, translating into 39mpg in the city, 35mpg highway, and 37mpg of mixed driving. Best of all, its electric battery provides 32 extra miles of EV-only range, giving the driver extra peace of mind while traveling long distances. Since it's a hybrid vehicle, the new Kia Sorento produces instant torque in combination with its electric motor and turbocharged engine, rewarding the driver with strong acceleration.    
The Benefits of Going Hybrid for Consumers
When prospective buyers are in the market for a brand new 2022 Kia Sorento Hybrid, they qualify for a $6,587 federal tax credit, making purchasing a Sorento Hybrid even more affordable. There is no need to go to charging stations or have a technician install an at-home vehicle charger in this particular model. The Sorento Hybrid recharges its battery via regenerative braking — an energy recovery mechanism that converts kinetic energy into usable energy for the battery cell. 
Vehicle Specifications and Features
Some of the Sorento hybrid's exterior features include Kia's iconic tiger-nose front grille with a full set of LED headlamps, LED daytime running lights, and fog lights. At the rear are vertical quad taillights that give the vehicle a uniform and wide appearance. The vehicle also runs on standard 17-inch aero alloy wheels with available all-wheel drive. Its interior is roomy enough to accommodate six passengers with standard three-row seating that includes second-row captain's chairs and a two-seat bench in the rear, all made with quality SynTex Leather (with heating functionality for the driver front passenger). 
For infotainment, the 2022 Sorento Hybrid features a 10.25-inch display with available Apple CarPlay and Android Auto that allows the driver to send texts via voice command, hear their favorite music, and use other apps. There are also eight USB outlets throughout the cabin to keep everyone's devices fully charged and a wireless charging pad in the front for convenient smartphone charging. 
Buy A New Kia Sorento with Us
The 2022 Kia Sorento starts at $33,990 for the S trim and $38,290 for the EX trim (prices are subject to change to accommodate destination fees and additional equipment). All buyers of the Sorento Hybrid receive a complimentary year of UVO Ultimate services along with the Kia Access app. UVO link comes with remote start and touchless climate control, a Surround View Monitor (that displays the vehicle's surroundings via GPS), Vehicle Voice Control, including Remote Lock and Unlock (from the convenience of your mobile phone). 
If Kia's new Sorento Hybrid is on your shopping list, contact us today at Southern Kia Virginia Beach, and we will assist you in placing your order. If you want to customize your Sorento Hybrid to your exact specifications, you can do so on Kia's Vehicle Configurator and send us your custom build for processing. You can also submit our contact form for any questions you may have on ordering or payment options. Are you looking for something else? Be sure to check out our new and certified pre-owned Kia inventory at unbeatable local prices! Call us today!
Image Source: Kia