A Compact SUV Comparison: 2022 Kia Soul vs 2022 Chevy Trax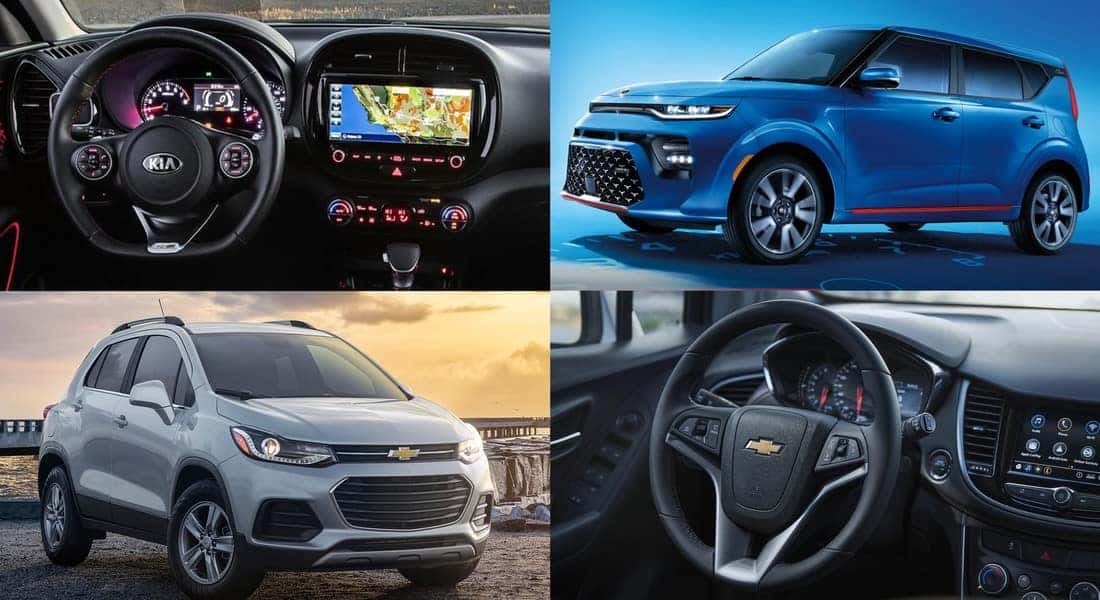 In the compact SUV segment, two small cars worth noting are the new 2022 Kia Soul and the 2022 Chevy Trax. Both vehicles are in the low 20k range in terms of pricing, which makes them ideal for consumers who have a strict budget. This article is meant to inform consumers what both vehicles have to offer and the different features each one has. Both vehicles have their strengths and weaknesses, for example, the new Kia Soul lacks all-wheel drive and is unfit for off-roading. While the Chevy Trax has limited off-road capability, it suffers from cheap cabin materials and does not have that many standard safety features. Despite this, we believe the Kia Soul comes out on top for several reasons. Here's why…  
2022 Kia Soul
Even though it's offered only in front-wheel drive, the 2022 Kia Soul is highly maneuverable, fuel-efficient, and is a great value for consumers. Under the hood of the Kia Soul is a 2.0 L 4-cylinder that produces 147hp and 132 lb-ft of torque via a continuously variable transmission (CVT). However, there is a more powerful engine available on the Turbo trim, it's a 1.6 L turbo 4-cylinder that makes 201hp and 195 lb-ft of torque via a seven-speed dual-clutch automatic transmission. Pricing for a base model Kia Soul starts at $19,190 (plus destination fee) which is about $2,210 less than a base model Chevy Trax. Some of the major highlights of the new Kia Soul are that it's easy to get in and out of and it offers a good seating position. All trims come equipped with Apple CarPlay and Android Auto which is a good feature to have for consumers that desire app connectivity and other media features. Safety features such as forward-collision warning, blind-spot monitoring, and lane-keep assist are standard on all trims except for the base model LX trim.           
2022 Chevy Trax
Chevy's compact SUV offering is the Chevy Trax which received some updates for 2022. It is powered by a 1.4 L turbo 4-cylinder that makes 155hp and 177 lb-ft of torque. Front-wheel drive is standard, however, all-wheel drive is available for $620 extra. The 2022 Chevy Trax has only two trim levels, while the 2022 Kia Soul has a total of six trims, offering more customization options to consumers on Kia's side. The Chevy Trax is limited to just two offerings leaving little room for potential buyers to personalize their vehicles. For 2022, the fold-flat passenger front seat that expanded the Chevy Trax's cargo-carrying ability has been discontinued.        
Which One Should You Buy?
One of the obvious similarities is that both share a 4-cylinder engine and both are compact vehicles. Despite some updates, the Trax is showing its age and active safety features are lacking; cheap cabin materials don't do it any good either. In a side-by-side comparison, we think the 2022 Kia Soul is the winner in terms of overall quality, and we believe consumers would fare better with the Kia Soul. The Kia Soul offers a quirky, youthful design with plenty of performance to get going on the road. It also comes with Kia's longest vehicle warranty, which gives consumers extra peace of mind.  
 Get started today by connecting with us Southern Kia Virginia Beach, we can help you get behind the wheel of a brand new 2022 Kia Soul. We offer flexible payment options for those that qualify, whether you are planning to lease or finance your vehicle, our professional staff is available to provide you with a seamless shopping experience. Fill out our contact form online if you are looking for a particular trim or a specific color and we'll provide you with more information on vehicle ability. We also fulfill custom ordering options for consumers that desire a custom Kia model straight from the factory. You can also check out our on-site inventory of new and certified pre-owned Kia models for the best local prices.
Image Source(s): Kia, Chevrolet